Oregon Senator Discusses National Workforce Crisis
Jun 21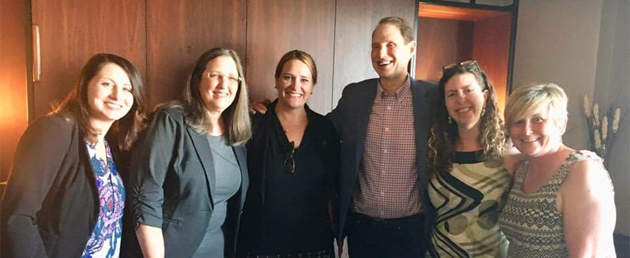 For nearly 50 years, the American Network of Community Options and Resources (ANCOR) has been a leading advocate for the critical role service providers play in enriching the lives of people with intellectual and developmental disabilities (I/DD). As a national nonprofit trade association, ANCOR represents 1,600+ organizations employing more than a half-million professionals who together serve more than a million individuals with I/DD. Each year, ANCOR hosts an annual conference which gathers the country's leading experts on disability supports to focus on learning and networking. In addition, they recognize outstanding direct support professionals from each state, the District of Columbia, and Canada and the important work that they do in supporting people with disabilities. This year, the conference was held in Portland, OR. Dungarvin had 12 leaders from across the country, including representatives from the National Central Office (NCO), Regional Directors, State Directors and Human Resources participate in the conference sessions alongside three of the four Dungarvin Direct Support Staff who were recognized as DSP's of the year for their respective states.

To kick off the three-day conference, the ANCOR Disability Champions PAC hosted an intimate group discussion event on May 5th, 2019 that featured U.S. Senator Ron Wyden (D-OR). Senator Wyden has been an outspoken supporter of people with disabilities over the course of his career. Having office in the Senate since 1996, Senator Wyden has built health care and disability expertise over the years. He has long held leadership positions on the Senate Finance Committee, which has jurisdiction on Medicaid issues, and is currently the Committee's Ranking Member. In that role, he has been a strong ANCOR ally.
As constituents of Senator Wyden, members of Community Providers Association of Oregon, (CPAO), of which Dungarvin is a member, had the opportunity to meet with the Senator and participate in a question and answer session to discuss the national workforce crisis that is affecting the disability community and network with providers from across the country who face similar challenges. The photo features CPAO Members and leaders from provider agencies throughout Oregon. Pictured from left to right: Stacie Haedt, State Director, Dungarvin, OR; Lois Gibson, Executive Director, Oregon Resources Association; Gretchen Dubie, Executive Director, Oregon Supported Living Program; US Senator Ron Wyden (D-OR); Anna Keenan-Mudrick, Executive Director, Community Access Services; Chrislyn Prantl, ODDS. Not pictured, but also present, is Lori Kress, National Director of Operations, Dungarvin.