Inaugural Dungarvin Regional Leadership Conference
Jun 19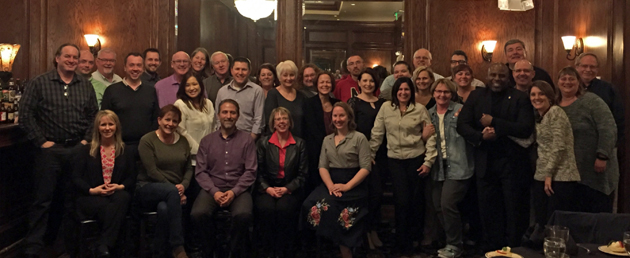 On April 23-25, the first Dungarvin Regional Leadership Conference was held in Denver, Colorado.
The Dungarvin West Region had the honor of hosting the inaugural event. The participants of the event included the Dungarvin Senior Management Team, Regional Directors, West Region State and Area Directors. The conference provided an opportunity for team and relationship building, learning from one another, and rejuvenation.
The conference theme of "we can't control the wind, but we can adjust our sails to reach our destination" included topics on staffing issues and quality of services. The Dungarvin National Human Resources department presented information on recruitment and retention. Al Whalen, HR Director shared a wealth of information on recruiting practices and strategies for getting quality applicants in to Dungarvin. Debi Allsup, Director of HR and Risk Management; Sheri Butler, Regional HR Director; and Taryn Wright, Operational Director of Human Resources, presented information with a focus on organizational methods to support the retention of staff. Staff shortages are a common event across the country, so a focus on being a positive place to work is mandatory.
Additional presenters included, Jennifer Rolfes, Dungarvin State Director for Kentucky. She presented on staffing models that are working for her programs, including innovative ways to staff some programs. Josh Dezurik, Director of Program Technology, presented on dashboard tools and how they can improve our QA process and the efficiency of Supervisors.
We were fortunate to have Joe Macbeth present at this leadership conference. Joe is the Executive Director for National Alliance for Direct Support Professional (NADSP) and has worked in the field of intellectual and developmental disabilities for more than 30 years, beginning as a Direct Support Professional (DSP). Joe is recognized as a national leader in the advocacy and advance of the direct support profession. He is a highly sought-after speaker on the workforce crisis affecting human service provider organization. Joe presented on "Tales from the Road: The Emerging Roles and Changing Expectations of the Direct Support Workforce" and "The 80% Solution: Practical Applications for Hiring, Developing, Keeping and Empowering Direct Support Professionals".
A fun highlight of this event was a scavenger hunt in downtown Denver. The group divided up into eight teams for this adventure.
The winning team of the scavenger hunt was Team 1, comprised of Carrie Howell, Senior Director for Dungarvin Oregon; Alyse Preston, Director for Dungarvin Colorado; Cheryl Rogge, Director for New Mexico; Josh Dezurik, and Russ McGill, Director of Financial Planning and Analysis.
The West Region would like to thank all the presenters and participants, with a special thank you going to Cassie Vigil, Dungarvin Colorado Receptionist and Kathy Tasker, Dungarvin Colorado Office Manager.