Houses Become Homes Because of Your "Yes" to Foster Care
May 01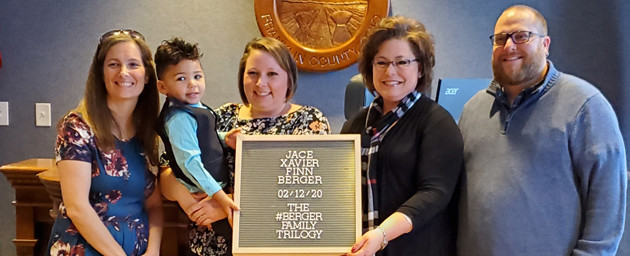 The Bergers contacted Dungarvin about the possibility of becoming foster parents just four short years ago.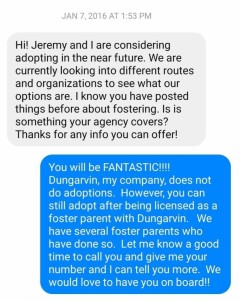 They were ready to start their family and had decided that they wanted to do so through adoption. Disappointed by calls to adoption agencies and the costs involved, it had been suggested to them that they look into adopting through foster care. I shared with them that Dungarvin would be happy to help them complete their family through foster care and that there are many children who are looking for families to love them. April and Jeremy started their Pre-Service training to become Dungarvin foster parents within a few weeks of our phone call and officially became licensed foster parents in April 2016, just a few months after their initial inquiry.
Jeremy has this to say about foster care:
"Having children you've grown to love leave your home is definitely hard. On one hand, that child could be going to a good place or they may be going to a place you fear could be harmful. We experienced both of these and they both hurt….a lot. I'm not going to sugar coat it….. Fostering children can be hard. It can be physically, emotionally, and mentally draining…….But….in all this….there can be such joy, happiness and fulfillment. God bless these kids who need us and bless us to care enough to help them."
Like most foster parents, the Bergers have had their share of ups and downs during their fostering journey. Children were welcomed into April and Jeremy's home with open arms and loved right from the start. They were instantly part of the family and shared in all the activities the Bergers' large, extended family participated in including trips to Michigan and numerous family celebrations. The family even went to Disney World in 2019. Sadly, children also left their home, taking pieces of their hearts with them. Jeremy reported that when their first placement was reunified with family, he thought he could never foster again because the pain was too great. There were times the adoption process seemed to drag on and the uncertainty was almost unbearable. But April and Jeremy never lost sight of their purpose, their reason for becoming licensed foster parents, and they continued to rely on Dungarvin for support.
After their third adoption, April said:
"Thank you for everything you've done for us over these last few years. From talking us into becoming foster parents to keeping us going in those tough times. Without you, none of this would have happened. Thank you for making our family complete."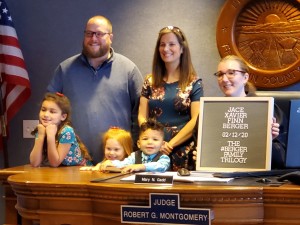 Because April and Jeremy said "yes", their house became a home to three young children they adopted from foster care. Emily Daniels and I were privileged to be a part of each adoption and shared in the joyful event all three times. The differences that Dungarvin is making in the lives of children is real. The difference Dungarvin's foster parents are making in the lives of children is real. Dungarvin can help build families and the Bergers are a testimony to that.