Dungarvin Celebrated Long-Term Employees in November
Dec 13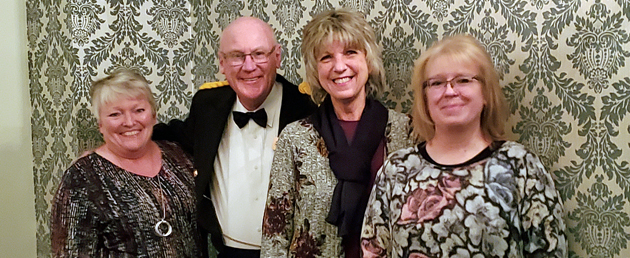 Photo above (left to right): Catherine Rathburn, Tim Madden, Shirley Pullar, Laurie Johnson
In mid-November 2019 Dungarvin celebrated three long-term employees with a gathering of friends, family and key Dungarvin personnel at Murray's Steakhouse in Minneapolis, Minnesota.
The three special honorees were: Laurie Johnson, Corporate Executive Assistant, 35 years; Catherine Rathburn, National Projects Director, 30 years; and Shirley Pullar, Senior Executive Assistant, 25 years. Other guests in attendance included: Tim Madden, Founder and CEO; Lori Kress, National Director of Operations; Joe Regenscheid, Chief Financial Officer; Paul Smith, Director of Organizational Development; Dave Toeniskoetter, Director of Business Development; Jan Carver, Director of Organizational Supports, Mike Holmes, former Chief Operating Officer, and his wife Paula; Randee Lang, National Project Manager; Kelly Baldwin, Online Content Manager; and Shirley Pullar's husband, Wally.
Laurie started with Dungarvin when she was a teenager, as a dishwasher in one of Dungarvin's early homes. Through the years, she served as direct support staff before moving into the National Central Office as a program typist. Laurie has continued to grow with the company, moving through Administrative Assistant and Executive Assistant positions and is currently the Corporate Executive Assistant. She is considered the number one go-to resource with her history at Dungarvin and has been instrumental in developing proposals for new business and in assisting with acquisitions. Her attention to detail with written communication and products has been a great asset. Laurie makes us look good!
Catherine started as Director with Dungarvin 30 years ago. When the company expanded into Indiana, she moved there to oversee the development. After Indiana, Tim was looking to expand in Ohio and Cathy volunteered to relocate and get the company started. She and her husband were the first staff at Dungarvin Ohio. Staff training and meetings were held in the basement of her town home until the Ohio operations grew enough to support an office. In addition to starting services in Ohio, she has helped new development in many of our states, including Tennessee, Oklahoma, New Jersey and Kentucky. Cathy has transitioned through many positions including Director, Senior Director, Regional Director, Special Projects Director and is currently a National Project Director. She is unflappable; the definition of grace under pressure. Tim remarked that when he knew Cathy was dealing with an issue, he felt assured that it would be okay. Cathy never says, "No, I can't do that." She is always willing to help and is a role model for others at Dungarvin.
Shirley came to Dungarvin when we acquired the company New Concepts in Wisconsin with which she was employed. Shirley successfully transitioned into the Dungarvin "way" of operations, supporting then National Director of Operations/Chief Operational Officer Mike Holmes. Shirley's role is now Senior Executive Assistant, providing supports to the current National Director of Operations and Dungarvin Regional Directors. She has a vast historical knowledge of our organization and is of tremendous support to the National Central Office. One of Shirley's greatest strengths is communicating and keeping others up to date, while helping teams to connect the dots.
Lori Kress stated, "All three of these valuable employees are always willing to jump in where needed. If they don't know something or haven't done something before, they just figure it out! These ladies are always so positive. You can tell that they really enjoy supporting the Dungarvin team, always encouraging others to do their best."
The evening was filled with stories, laughter and camaraderie. The long tenure of many of Dungarvin's employees is absolutely a celebration worth having. Congratulations Laurie, Cathy, and Shirley! We very much appreciate all that you have done and continue to do at Dungarvin!