Dungarvin Acquired Spectrum Community Services of Indiana
Feb 19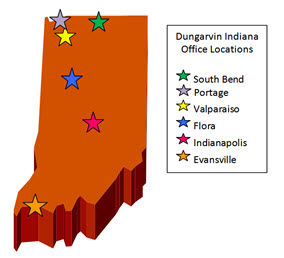 We extend a warm welcome to the men and women living in our new Valparaiso, Battle Ground, and Flora, Indiana homes along with their staff and families. Effective January 1, Dungarvin acquired Spectrum Community Services of Indiana, a provider of services to adults with disabilities. Each of the five programs is home to four people and is licensed as an Extensive Special Needs (ESN) service.

Two homes and an office are located in Valparaiso, 14 miles from Dungarvin's Portage, Indiana office and 50 miles southwest of our South Bend office. Another two homes and an office are located in Flora, 100 miles southeast of Valparaiso and 65 miles northwest of Indianapolis. The fifth home is located about 20 miles from Flora in the town of Battle Ground.

Over the past three months the Indiana team has worked hand-in-hand with Spectrum management and its parent company Oconomowoc Residential Programs (ORP), to successfully transition the services and employees to Dungarvin. In three short months we transitioned 19 individuals, 61 staff, 5 homes, and 2 offices into Dungarvin services.

A special thank you to Spectrum's director, John Runions and Dungarvin staff: Rick Adams, Senior Director; Christina Dickens, Office Manager; and Sheri Butler, Human Resources Manager, for their tireless effort throughout the transition, sacrificing family time over the holidays and enduring complicated weather. A salute also goes to all the support departments and staff from both Dungarvin and ORP for their invaluable effort behind the scenes.

Join me in welcoming all to the Dungarvin family!