Congratulations to Our 2022 DSP of the Year Winners!
Apr 01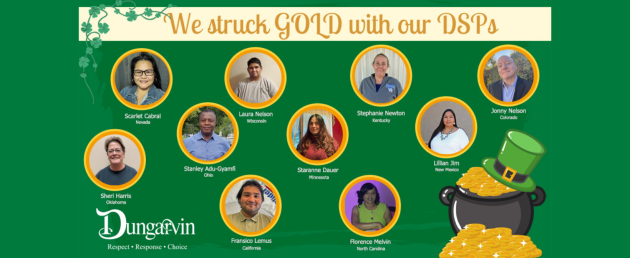 We are thrilled to announce that 10 Dungarvin DSPs were selected as ANCOR 2022 DSP of the Year winners for their respective states.
Since 2007, the American Network of Community Options and Resources (ANCOR) has recognized the truly outstanding work of Direct Support Professionals (DSPs) who go above and beyond the call of duty time and time again to enrich the lives of people with disabilities whom they support. This year will be Dungarvin's 15th consecutive year of having DSPs honored as their respective state winners, and we could not be prouder of our extraordinary staff. Chosen from more than 300 nominations, this year's class of honorees include:
Words cannot adequately express our gratitude for the contributions these Dungarvin DSPs have made in the lives of the people they support, nor can we begin to acknowledge the sacrifices that these extraordinary staff members have made to maintain their commitment to the individuals who rely on them. The award ceremony will be held in Miami, Florida on Wednesday, April 13th during ANCOR's annual conference where you'll hear stories of how these professionals have raised the bar on direct support like never before, helping people stay safe during the pandemic while setting and achieving goals that empower them to live fully inclusive lives. The DSP of the Year award ceremony will also be streamed for virtual participants.
We extend sincere congratulations to all our winners of the 2022 DSP of the Year Awards, as well as to all our nominees. We truly struck gold with our DSPs!