Congratulations to Our 2020 DSP of the Year Winners!
Apr 17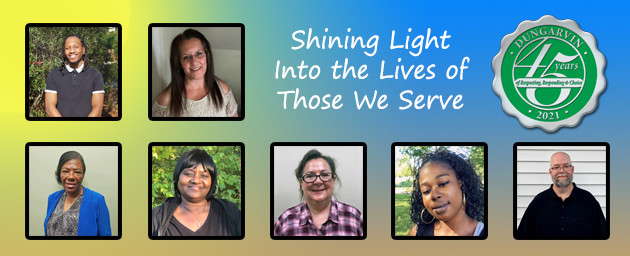 We are so very proud to announce that six Dungarvin DSPs were selected as ANCOR 2020 DSP of the Year winners for their respective states, with one Dungarvin DSP selected as award winner of one of ANCOR's special categories!

Since 2007 the American Network of Community Options and Resources (ANCOR) has recognized the efforts of Direct Support Professionals (DSPs) who go above and beyond the call of duty, time and time again, to enrich the lives of the people with disabilities whom they support. In ANCOR's words, "These extraordinary and essential professionals work tirelessly every day to solve problems, engineer solutions, adapt, innovate, listen and support. Because of their work, people with intellectual and developmental disabilities are better equipped to live quality lives in truly inclusive communities." A DSP of the Year is selected for each state among hundreds of nominations which detail the inspiring work that is performed every day on behalf of a person with a disability. Dungarvin has established a tradition of employing amazing staff who have been selected for this prestigious award since its inception. This year, the Dungarvin DSPs who are honored as winners are:
Words cannot adequately express our gratitude for the contributions these Dungarvin DSPs have made in the lives of the people they support, nor can they begin to acknowledge the sacrifices that these extraordinary staff have made in order to maintain their commitment to the individuals who rely on them. Their dedication and unwavering support is truly worthy of this special recognition.
Unfortunately, due to the current health pandemic, ANCOR will not be having a live conference at which our DSP of the Year award winners would have been able to attend and receive their awards. However, they will be able to join the celebration at ANCOR's virtual conference on Wednesday, May 6 from 4–5:30 pm EDT / 1-2:30 pm PDT. As we feature these incredible DSPs individually on our Facebook page, please take a minute to extend your personal congratulations to them.