Our 2018 ANCOR Award Winners are Taking Us to New Heights
Apr 05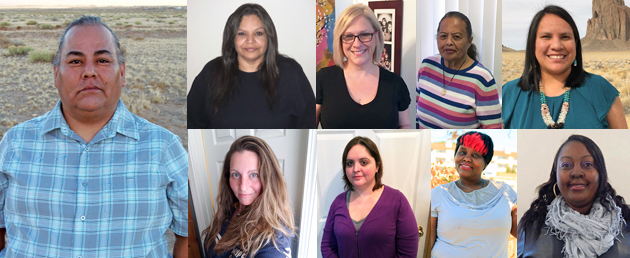 Dungarvin's Direct Support Professionals (DSPs) are critical to our success as a provider organization, and in fulfilling our mission of "respecting and responding to the choices of people in need of supports."
It is an honor to have the accomplishments of our DSP personnel recognized by the American Network of Community Options and Resources (ANCOR). This year, ANCOR selected seven Dungarvin employees as State DSP of the Year Award Winners, including Alicia Wallace of California, Jennifer Dailey of Indiana, Elizabeth Lobb of Minnesota, Maxine Hensley of Nevada, Stephanie Burnham of New Jersey, Terilyn Barton of New Mexico, and Teri Arquilla of Oklahoma. One of our employees, Aisha Stanley of Connecticut, was chosen as one of two National DSP Advocacy Award winners. Additionally, we are very proud that Leroy Bryant of Gallup, New Mexico, was selected out of 336 nominees as the 2018 ANCOR National DSP of the Year Award winner.
These DSPs were selected for their dedication, creativity and innovation on the job. Per ANCOR, nominees are judged on "their success in helping people with disabilities build social networks and engage in substantive community participation and for advocating for the people they serve."
Dungarvin COO Bob Longo shared, "I am extremely proud of all of Dungarvin's DSPs, especially our 2018 ANCOR award winners who work tirelessly to support the individuals that we serve. We feel privileged that our remarkable employees will be honored nationally for their service and dedication." Tim Madden, Dungarvin CEO added, "Our DSPs are the best!"
All winners will have the opportunity to attend the 2018 ANCOR Conference: Converge in the Big Easy which takes place in New Orleans, LA on April 15th-17th. It is anticipated that there will be an audience there of over 500 attendees.
Dungarvin has had winners recognized with these ANCOR awards for eleven consecutive years. This is a powerful indicator of the caliber of our Direct Support Professionals and how they are positively impacting the lives of the individuals we support. We extend sincere congratulations to all of our winners of the 2018 DSP of the Year Awards, as well as to all of our nominees. Thank you for taking us to new heights!