Paying it Forward at Dungarvin Oregon
May 04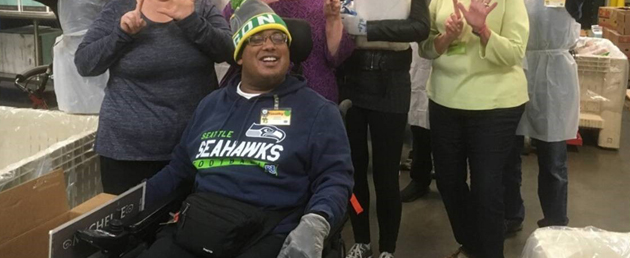 At Dungarvin Oregon, we feel the importance of paying it forward.
Here in the Pacific Northwest, we are so blessed during the cold and rainy winter months to have the basics: a roof over our heads, a warm meal, with dry and clean clothes to wear. Most importantly we have a coterie of advocates who are compassionate about creating a positive and independent life for all. Whether it be the Program Director who works Christmas day so their staff could be home with family, or the Director who works the floor while their Program Director is out on medical leave, we know how to not only support our beloved individuals, but our entire Dungarvin Oregon community. This ideology trickles down, and the individuals we support know it and feel it and they themselves are inspired to give back in any way they can.
Tim M. has been with Dungarvin Oregon since 2009 in our Supported Living Program. Tim is extremely active in his community, always out and about at community events and discovering his next adventure. In December, Tim was honored by the Oregon Food Bank for volunteering 600 hours of his own time to helping his fellow Oregonians. Dungarvin Oregon couldn't be more proud of Tim and his amazing service in paying it forward to those in need.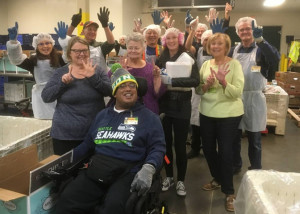 Richardo S., Jerry J., Erik G., Chasse H. and Donald B. are all part of Dungarvin Oregon's Supported Employment Program. They work doing maintenance for Dungarvin programs and our Portland Office. On a chilly day in December, the Maintenance Crew paid forward to the community by passing out new socks to those in need in downtown Portland. The Crew's compassionate actions were prompted by the Crew's long time leader and supervisor, James Salisbury.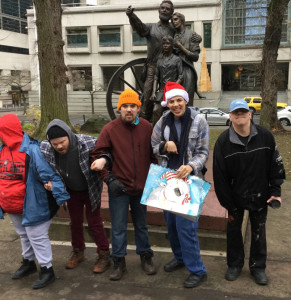 We are so proud of our team and the individuals we serve for wanting to give back to the community around them. We look forward to helping the community more in the future and are eager to see what other ideas our team and individuals supported come up with in order to pay it forward.