Opioid Addiction and Recovery Awareness Day at the Connecticut State Capitol
Mar 22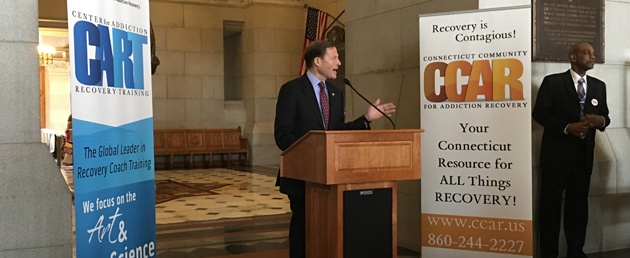 Did you know that opioid overdoses are on the rise; 30% in 52 areas across 45 states from 2016 to 2017?
Specifically, it rose 70% in the Midwest, and 54% in large cities according to the Vital Signs Report published by the US Centers for Disease Control and Prevention. Every day, more than 115 people in the US die after overdosing on any type of opioid, according to the National Institute on Drug Abuse. According to Dr. Anne Schuchat, acting director of the CDC, "This is really a fast-moving epidemic that's getting worse. The increases in overdoses were seen in adults of all age groups. They were seen in men and women. They were seen in every geographic region in the nation."
In Connecticut alone since the beginning of 2018, we have had over 1,300 emergency room visits due to opioid overdoses. But, what can we do about it?
Dungarvin Connecticut joined Connecticut Community for Addiction Recovery (CCAR) at their event held on February 26, 2018 at the State Capitol, to raise awareness surrounding the current opioid epidemic. We learned about the resources available to combat it. We were introduced to the Narcan training available to all citizens. We met with local representatives at the event and asked them learn more about what Connecticut is doing about the opioid crisis and how they can help. We were made aware of the Vital Signs Report which provides information on all the things you can do in your community to increase awareness, better surveillance and tracking by health care providers, and at the legislative level. The more we know and advocate for opioid alternatives for pain management, the more we can make a difference in our communities.
There are many barriers and obstacles for those struggling with addiction but there are also a number of community and state run initiatives to aid those seeking recovery. Dungarvin, with its Supported Sobriety program and clinical model has joined the ranks to do what we can to fight this epidemic!