Opening Doors at the Minnesota Attorney's for Justice Convention
Sep 25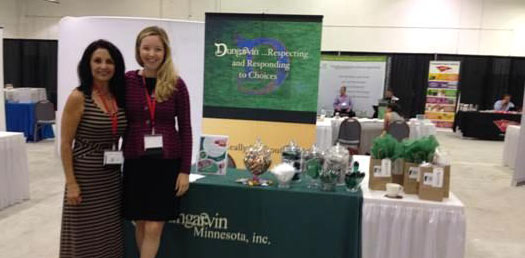 In August, Dungarvin attended the annual Minnesota Association for Justice Convention in Alexandria. The gathering is a great get-together for attorneys practicing in the state of Minnesota to keep current on emerging topics and issues. Dungarvin's Intake Manager, Mahin Schroeder, and Marketing Manager, Stephanie Jacobson, attended the three day event and networked with personal injury attorneys to inform them of Dungarvin's services. Clients (and their families) who unexpectedly face a traumatic injury can absolutely benefit from partnering with Dungarvin to provide support with daily living needs, temporarily or for the long-term.
Thirty plus vendors exhibited at the convention and highlights included a luncheon with the quick witted keynote speaker James Carville, "The Ragin Cajun" and a dinner and awards ceremony with surprise speaker, Governor Mark Dayton.
The Minnesota Association for Justice helps members keep current on emerging topics, issues and trends through high quality seminars, conventions and institutes, as well as invaluable monthly and quarterly publications. Recognizing the importance of protecting consumer rights, the Minnesota Association for Justice impacts critical legislative issues through its effective lobbying efforts. The original purpose of networking continues to be one of the most valuable benefits of the vastly expanded membership of the Minnesota Association for Justice.