Never "Empty Your Bucket" List
Jul 17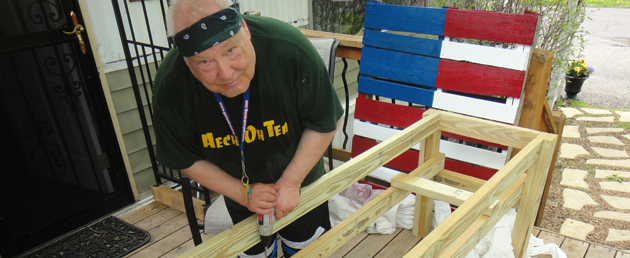 Many years ago, when I first started working with Wally, the person I support, we watched a movie that had come out, called "The Bucket List". This movie prompted Wally to make his own bucket list.

Over the next 9+ years of working together, many of the items on Wally's bucket list were accomplished. Some of them included: getting back in touch with his siblings who he hadn't seen in 17 years, become a member of a church, drive a go-cart, ride a horse, sled using an inner tube down a snow hill, buy power tools and build things, locate his mother's grave and clean it yearly, own his own laptop, buy a 60″ screen TV, acquire a cell phone and…well, the list went on and on. One item on the long list stood out: Wally wanted to give something every year and not want something back. A "pay it forward" concept, if you will.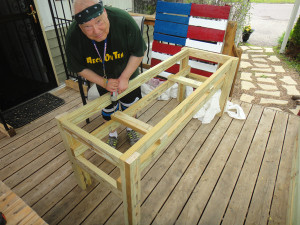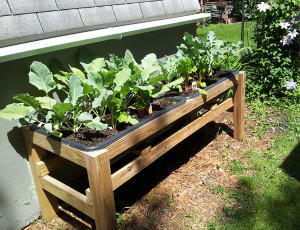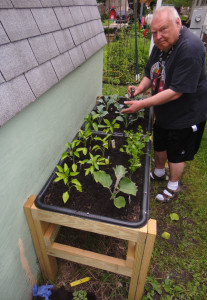 Since creating his bucket list, Wally has given his help, time, advice, friendship and tangible things. THIS year he decided to give his raised garden bed, something we had built together a few years ago. Wally decided he wanted to donate it to a group home with residents that are in wheelchairs. We could have donated it to another company's group home here in Hutchinson, but Wally decided he would like to keep it in "the family", HIS family…Dungarvin. He often expresses his love for his Dungarvin "family", expressing it to me, his CSS; to the Minnesota Central Office staff, all the way up to the owners, Tim and Diane Madden. He says,"Lisa? Can there be ANYBODY happier in life, than me?"
On the day Wally decided to pay it forward, we loaded up the bed and headed to the chosen recipients residing at Jersey House. When we arrived, we unloaded it next to their outdoor ramp. This location was perfect as it was saturated in sunshine. The new plantings could happily sunbathe and be cared for by the new owners, until harvest time. Wally and I are certain that they will have many years of gardening enjoyment.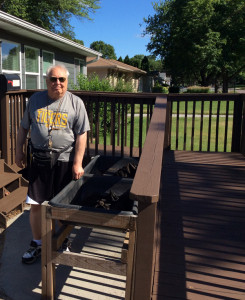 We hope more people will join Wally, and when crossing items off your bucket list, NEVER cross out the words "Pay It Forward". Just "circle them" and keep giving for nothing in return.