Miriam and Anthony Advocate at the Capitol
May 11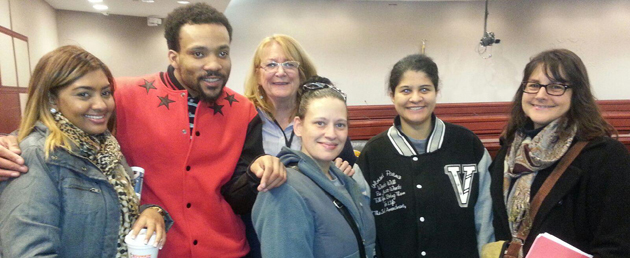 ** Photo above depicts meeting Noreen Kokoruda **
When Miriam V. found out that people go to the Capitol to fight for (advocate) funding for programs, staff, and people who need supports, she wanted in!
Miriam called me to schedule a meeting at our office to learn more about advocacy, and explained to me that she and her friend, Anthony B., someone who also participates in residential supports with Dungarvin, wanted to talk to the politicians to request help for people who "don't have homes" and the staff, who "don't make enough money and have to work other jobs and it's not fair".
On Wednesday, February 11th, Miriam arrived at the Capitol ready to move mountains armed with no more than her "go-getter" attitude, Anthony, and their staff, Melissa Ganesh and Andrea Laudano. She listened during public hearings, and then we walked around the Legislative Office Building to find the legislative offices. Wherever we pointed out a legislator, Miriam would walk over and share with them the plight of her "friends at school who don't have funding like me to live in a good home with staff". She told the legislators how tough the lives of her staff are and how hard it is to take care of their children and pay their bills with the low pay they earn.
All of the legislators were eager to talk to Miriam and Anthony. They commended their advocacy work and encouraged them to keep on talking about these issues with other legislators. We were able to take photos with House Representatives Jay Case, John Hampton, and Noreen Kokoruda, and Senator Beth Bye.
During our lunch break in the Legislative building cafeteria we were talking to the new DDS Commissioner, and Miriam noticed the Governor trying to unobtrusively carry his lunch tray to a table filled with aides and security. Miriam called out to Governor Malloy and dashed through the sea of visitors and legislators congregating in the already overcrowded room. As Malloy's aide approached and security looked on, Miriam tugged at his suit sleeve told him about her friends and requested a photo. He graciously posed for a photo with Miriam before slipping off to his security and support team.
That day, Miriam was joined by more than a hundred members of a grass-roots advocacy group, Our Families Can't Wait! (OFCW), and the local healthcare union, New England Health Care Employees' Union 1199NE/SEIU, and delivered more than 2,500 signatures to Governor Malloy and the Appropriations Committee co-chairs.
More than 2,000 individuals and families are on the DDS waiting list with little hope of accessing the residential placements they need. Too many direct care workers at DDS-funded nonprofit agencies are making shamefully low wages and too many have gone without raises for eight years. Community-based nonprofit agencies are at risk of closing more programs for people with I/DD due to inadequate state funding. We understand that these are challenging times, but we're calling upon the legislature to prioritize funding for people with I/DD and the families, direct care workers and provider agencies who support them; and Miriam and Anthony will be some of the individuals leading the way.
Our hope is that more individuals join Miriam and Anthony to defend their right to happy, robust lives much of which depends on the supports agencies such as Dungarvin provide. It was an exciting day and we are all looking forward to the next rally!