Dungarvin Acquires Four Businesses in WA and OR
Aug 01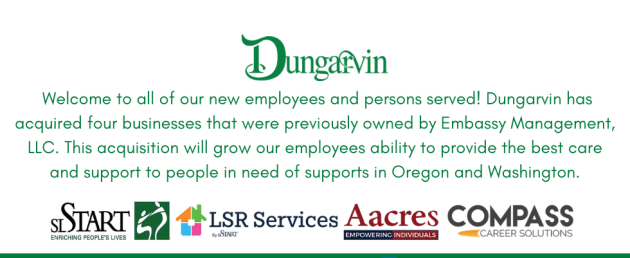 Today, August 1, 2022, Dungarvin welcomes to our organization over 750 new employees and 1000 individuals served.
Embassy Management, LLC, a provider for individualized community support, adult residential services, children's residential care, supported employment, youth readiness and other services has worked with Dungarvin for the last several months to transition their supports to our organization. In addition to the supports already offered in Portland, Oregon, we will be expanding into multiple areas across the state of Washington.
The four Embassy Management companies that will be integrated into Dungarvin include:
– Aacres Washington, LLC, which is now Dungarvin Washington Supported Living, LLC (website coming soon: www.dungarvinwasl.com)
– SL Start and Associates, LLC in Washington, which is now Dungarvin Washington Children's Services, LLC (website coming soon: www.dungarvinwacs.com)
– SL Start, LLC in Oregon joins Dungarvin Oregon, LLC (website coming soon: www.dungarvinoregon.com)
– Compass Career Solutions, LLC is now Compass Career Solutions, A Dungarvin Company (website: www.careersbycompass.com)
We are pleased to communicate that substantially all direct service, management and support department personnel have transferred to Dungarvin. Errin Sullivan, previously Embassy's Acting CEO and now a Dungarvin Regional Director, as well as her administrative team have joined our team to support the integration of the four Embassy Management companies into Dungarvin.
We wish to express our deep appreciation to the individuals and guardians who have chosen to partner with Dungarvin, and to the many employees, contractors, and management team members for their continued commitment to the individuals whom they have supported. Further, such transitions require substantial effort on the part of case managers, state guardians, and the support and action of our partners within the state governments of Oregon and Washington. Finally, we thank all the Embassy Management, LLC and Dungarvin staff working behind the scenes to make as smooth a transition as possible over the last months.