Caregivers Recognized in Dungarvin Nevada
Jan 14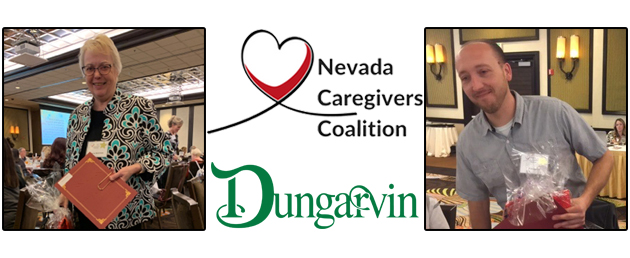 In 2019, Dungarvin Nevada had two caregivers recognized by the Nevada Caregiver Coalition.
Each year, November is National Caregiver Month. The Nevada Caregiver Coalition sponsors an annual caregiver recognition lunch where individuals providing care for others are nominated for seven categories of excellence. All caregivers are recognized for their commitment and willingness to give of themselves to enhance the quality of life of those in need of supports. In 2019, there were 90 people nominated for their caregiving excellence. This year Dungarvin Nevada had two nominees recognized at this luncheon: shared Living providers, Kris Garcia and Sherry Decleene. We are very excited to share that Sherry was awarded the paid caregiver award and Kris was honored for his excellent supports.
Sherry Decleene has been with Dungarvin since October 2016 and is such an amazing woman. She is very giving of her time and possessions, is compassionate for others, and has patience and acceptance for so many. She has done many wonderful things, including serving as a law enforcement officer, owned an operated a comic book store for many years, and for the past decade she has been a financial adviser. Sherry did all of this while caring for both her partner and Robin. Sherry's partner transitioned in 2017 and Sherry was faced with providing supports to Robin full-time. In her mind, there was never a question if that was going to happen. Sherry said, "Robin is my family." She has been hosting Robin for 21 years. In order to accommodate Robin, Sherry recently cut her Financial Adviser position to part-time status. Sherry is most definitely a pioneer in the Shared Living Model.
Kris Garcia has been with Dungarvin since August 2014 and is a caring and compassionate man and brother. Kris has been hosting his brother Mike for 6 years now. Last year, Kris was faced with a life challenge which resulted in becoming the sole caregiver of his brother. For Kris, there was no if, and, or buts; he was willing to make any accommodations in his life to assure his brother stayed living with him. Dungarvin already knew Kris as a wonderful, caring man who loves animals, organic gardening, and baking a mean chocolate cake which Mike loves to eat. Dungarvin now knows Kris as the spark in Mike's life. In the last year, they have both grown and established a deep sense of respect for each other. Their brotherhood and true love for each other is exhibited daily through humor, admiration, and a great sense of peace. They live in rural Nevada and enjoy their animals, camping, and spending time with their parents and family. We have been thrilled to see Mike has blossom under the supports of his brother Kris.
Dungarvin Nevada is very proud of both Kris and Sherry and delighted that both were recognized by the Nevada Caregiver Coalition as the excellent caregivers we know they are. Congratulations Sherry and Kris!