Adult Day Program Now Open in Signal Hill, CA
Feb 15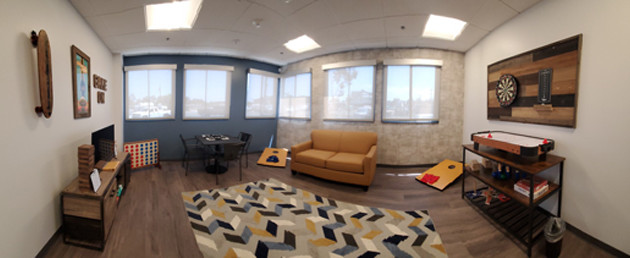 Dungarvin is proud to highlight the opening of its Partial Community Inclusion Adult Day Program in Signal Hill, California!

After many delays in identifying a location, a lengthy build out, and uncertainties around the COVID-19 pandemic, Dungarvin Signal Hill was finally vendored and licensed in November 2020.  Services started remotely for 2 people.  As services were being offered remotely, they were able to participate in virtual workshops with others from a sister site located nearby in Norwalk.
Virtual workshops and 1:1 activities occur each day via the Zoom Platform. They participate in ASL, cooking classes, virtual tours of community and cultural landmarks, game shows, arts and crafts, and so much more! We focus on meaningful skill building and providing a sense of community and normalcy in these unknown times.
This is the third partial inclusion day program Dungarvin has opened with Harbor Regional Center in the Southern California area. With the support of Dungarvin's National Central Office, this previously run-down building and outdoor space has become an exciting and inspiring environment, both inside and out, for exceptional programming. Like its sister programs in Long Beach and Norwalk, the Signal Hill location design offers several concentrated, yet spacious areas such as a full kitchen, garden room, library, technology lab, art studio and more. With its "industrial" theme paying homage to the abundant oil drilling that Signal Hill is known for, the cool and vibrant atmosphere of this program is inviting and uplifting.
The program will operate both a morning session and an afternoon session. The people we serve will participate in either the 5-hour AM session or the 4-hour PM session, Monday through Friday. Each participant will spend (at minimum) one-third of his or her time involved in community-based activities, accessing natural supports and public resources. Whether at the base site or in the community, the people we serve will be offered opportunities and experiences that are individualized, focused on skill enhancement, emphasizing abilities and strengths, and responsive to his or her choices.
We are pleased to offer these Adult Day Program services in Signal Hill and look forward to seeing the people we serve participating and integrating in their community, both virtually and soon physically, as a result of the collaborative efforts between the city of Signal Hill, Harbor Regional Center and Dungarvin.