Achieving a Dream and Conquering a Mountain
Oct 05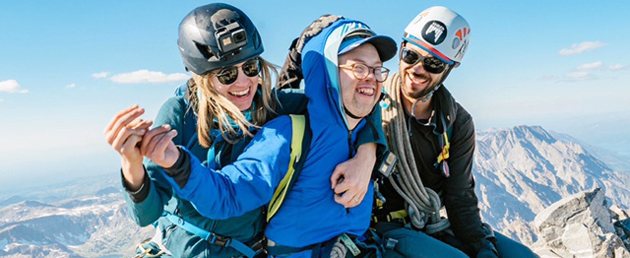 Max and Amy's dream was to be able to climb the Grand Teton with Andrew.
In July 2015, Max Hammer contacted Dungarvin about being a Host Home provider for Andrew "Bob" Harris, an individual with Down Syndrome. Andrew had grown up on a ranch in Incline Village in Tahoe, Nevada. Coming from a family of very physically active people, Andrew's health had been in a decline after years of inactivity in various group homes, where his diet was poor. Andrew had moved to Reno in 2013 and at this time was moved into an Intensive Supported Living arrangement. He had a serious illness that removed his ability to eat whole foods and had a feeding tube. His sister Amy, who was studying to be a nurse, made it her mission to help Andrew be able to eat whole foods again.
Amy and Max, who are engaged, decided that the supported living supports did not foster Andrew's physical abilities, despite their encouragement for Andrew to be active by taking him running, sledding, skiing and riding horses. When Andrew could run a distance of 16 miles, none of his support staff could keep up with him, so Max went through the lengthy process of becoming a Host Home Provider so that Andrew could move in with them. Once Andrew moved in, they assisted him with the right nutrition to be able to be healthy with the type of physical activity that Andrew enjoyed. Pursuing a dream to climb the Grand Teton with Andrew the three of them began a workout regiment to help prepare for the climb.
In the fall of 2016, they ramped up their training, practicing short-roping and rappelling, climbing in gyms, and hiking in Reno. On August 18, 2017 at 5:15 pm MST Andrew achieved this dream, becoming the first person with Down Syndrome to reach the summit of Grand Teton, an elevation 13,766 feet.
In one of the articles written, below, Amy stated, "I hope this inspires people in general to see possibility instead of limitation and approach their goals with humility and humor." We are certainly inspired! Way to go Andrew for achieving a mountain of a dream!
Click below to see news articles about Andrews accomplishment:
First Down Syndrome Summit of the Grand Teton
Up Is the New Down