5 questions with…Bill Koscher
2023 Oklahoma DSP of the Year William (Bill) Koscher has a unique story to tell. His wife, Donna, was already a Dungarvin "agency companion" when Bill made the decision to retire from his lifelong profession as a police officer and sheriff to become an agency companion himself. (Agency Companion Services are host home providers in the state of Oklahoma. They provide services similar to that of a Direct Support Professional.) In 2018, Bill and Donna welcomed into their home a young boy with significant intellectual and physical challenges caring for him full-time. As you might imagine, Bill and Donna have developed a caring, parental relationship with the child, proud to provide the supports he needs that allow him to succeed. Get to know more about Bill and his commitment to his second career in 5 Questions with…Bill Koscher: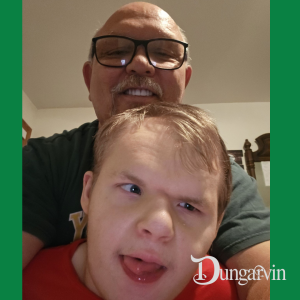 1. Why do you have a passion for this work – how so – please briefly explain.
This is a hard question, because I really didn't have a passion to do this work. I was in law enforcement for 18 years, when my wife took an AC into our home, and I was just being supportive of my wife. "BUT GOD"! Them two words seem to change the direction of my life. I was sitting in my office doing evaluations on my officers, plus budgets, and calls for service, when my wife called and told me that Priscilla was playing with her toys and cooing, just having a good time, and it hit me. 21 years in the military and 18 years in law enforcement, and I'm still missing things that happen in my own home. GOD instilled in me that a change was coming, and that HE assured me, or gave me peace that it was going to be a change for the best. HE revealed that after 39 years of service to everyone else, it was time to learn about me and my home.
2. What is your most treasured possession?
This is a trick question! But I would have to say my RV. My wife and I LOVE the outdoors and the RV gives us the space and ability to take our Agency Companions with us wherever we decide to go.
3. What characteristic – or adjective – would people use to describe you?
Fun-loving, weird, and compassionate for my kids!!
4. What would you most like to see happen in your state to better serve people with disabilities?
Oh my, it would be a great thing to have more ACs in Oklahoma! It breaks my heart to see places filled with kids who need support. Giving them a quality of life that they most likely will NEVER see in these institutions would be a huge blessing for them. They deserve to have a great life!
5. What do you most value about the Dungarvin team with whom you work?
Karla is the Rock that keeps us all solid, Linda and Karen keep that rock rolling, and Julie keeps that rock from crushing all of us!!! Little humor there, yes, I know, VERY LITTLE!!! But seriously, these ladies are incredible and very knowledgeable in all aspects of doing what we need to do in order for this to work. We as Agency Companions, just add LOVE, a dash of patience, knowledge, and experience, and GOD handles the rest. It is said that if you LOVE your job, you'll NEVER work a day in your life!! I haven't worked since 2018 and look forward to what GOD has for us all in the future.