DSP Honorees Travel to Washington, D.C.
Jun 12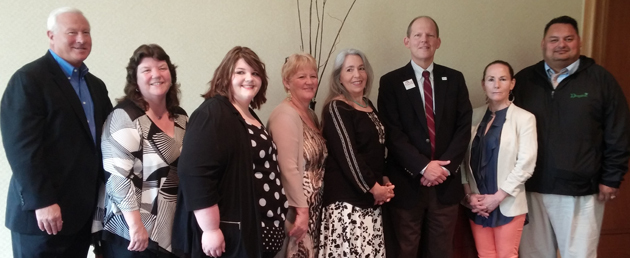 ANCOR, the American Network for Community Options and Resources, recognized the achievements of seven Dungarvin employees who were chosen as 2015 DSP of the Year award recipients for their respective states. This is a remarkable accomplishment, as these individuals were selected from over 800 nominations that were submitted. In early May, all but one of these winners were able to attend the 2015 ANCOR Annual Conference which took place in Washington D.C. Again, we'd like to congratulate Carla Buterbaugh- Colorado, Lisa Buckentin -Minnesota (unable to travel to Washington), Glory Honea-Oklahoma, Shawn Torres- Nevada,; Kathy Kinsey- New Mexico, Tara McIntosh- Oregon and Jeanne Gebhardt-Wisconsin.
ANCOR's goal of the DSP of the Year awards program is ". . . to enhance the lives of people with disabilities by obtaining the resources to recruit, train and retain a sustainable direct support workforce. The awards honor and recognize the dedicated individuals who continually enrich the lives of the people with disabilities they serve." Dungarvin winners accepted their awards at the conference, and were formally recognized for their dedication and commitment. In addition, award recipients attended various conference sessions, ventured to Capital Hill to meet with legislative staff to advocate for the needs of persons with developmental disabilities, and enjoyed a tour of the Washington, D.C. area. They were also guests at a special dinner that included the entire Dungarvin entourage that attended the conference.
The fact that Dungarvin DSPs have been recognized with these awards by ANCOR for the past eight years is an incredible testament to the caliber of our Direct Support Professionals. We truly appreciate the challenges involved in their jobs, while applauding how they rise to those challenges every day that they arrive to work. Congratulations again, 2015 ANCOR DSP of the Year winners, and thanks to all Dungarvin staff for everything that you do for the persons we support.