Celebrating Our Outstanding Direct Support Professionals
Apr 19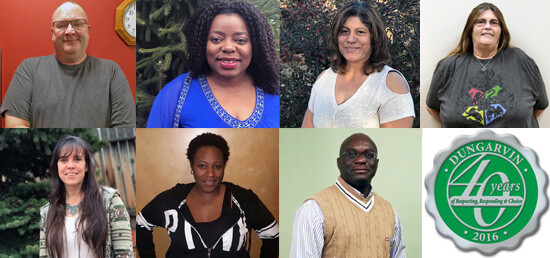 Dungarvin's direct support professionals are essential to our success as a provider organization, and in fulfilling our mission of "respecting and responding to the choices of people in need of supports."

It is particularly gratifying to have the accomplishments of our DSP personnel acknowledged and commended by others. We are proud and excited to announce that seven of Dungarvin's direct support professionals were recognized as state winners of the American Network of Community Options and Resources (ANCOR) 2017 DSP Recognition Awards. ANCOR has honored exceptional DSPs with this recognition award since 2007.
Tim Madden, Dungarvin CEO stated, "Direct Support Professionals are the backbone of Dungarvin and the entire system of community-based supports for people with disabilities. We are proud of our skilled and dedicated direct support workforce, and we are grateful to ANCOR for sponsoring the DSP of the Year awards, recognizing and honoring the very best among the special group of people who do this important work. Dungarvin is pleased to have seven of our direct support professionals recognized by ANCOR as DSPs of the Year in 2017. We look forward to honoring and celebrating with them at the annual ANCOR conference in San Antonio on May 3rd."
Out of hundreds nominated, these winners were selected for their exemplary dedication, creativity and innovation. Per ANCOR, the goal of this program is ". . . to enhance the lives of people with disabilities by obtaining the resources to recruit, train and retain a sustainable direct support workforce. The awards honor and recognize the dedicated individuals who continually enrich the lives of the people with disabilities they serve." It is exciting to announce that Dungarvin employees were selected for seven awards.
"Our direct support professionals make it possible for us to fulfill our mission and without them, we don't exist. I also believe that the individuals that we support don't receive the essential services required to fulfill their dreams and actualize their choices without these truly remarkable people and employees," stated Bob Longo, COO.
All winners were offered the opportunity to attend the 2017 ANCOR Conference: Taking the Helm! which is taking place in San Antonio, Texas May 1-3, 2017.
The fact that Dungarvin DSPs have been recognized with these awards by ANCOR for the past ten years is a testament to the caliber of our Direct Support Professionals and how they are impacting the lives of the individuals we support. We extend congratulations to all of our winners of the 2017 DSP of the Year Awards, as well as to all of our nominees.