Resourceful and Determined to Meet Garth Brooks
May 07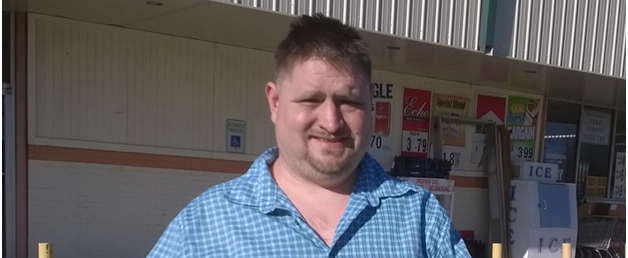 Resourceful and determined describes Nathan P.
It was not long after Nathan heard that Garth Brooks was going to be in concert in Tulsa, Oklahoma, that he starting making arrangements to go to the first of three performances. He loves concerts and goes to many, but when the concert was out of town, it presented additional challenges. Knowing he had the funds for it, he let his Program Director know that he wanted to go. His Program Director agreed and told Nathan to work on a plan. And that he did. He asked our Office Manager to go on-line to purchase his ticket, and  called various staff until he found someone willing to drive him to Tulsa. He was set. To be even more prepared, Nathan got a nice haircut, put on his best clothes and  accessorized with his his recently won medals from Special Olympics.  As the cherry on top, he packed a picture of Garth and him at Special Olympics from several years prior.  He was off!
Nathan had a plan for the picture and those medals. He was determined to get Garth's attention so he could autograph the photo.  But his determination got him something even more spectacular. During the concert, Nathan tried a couple of times to get next to the stage in order to get Garth's attention. After being escorted gently back to his high level seats by security, it was on his third attempt that Garth saw the picture during a song and said, "That's in Stillwater!" Garth walked over and took the picture from Nathan, held it up, and showed it to the world. When he returned the picture to Nathan, Nathan removed his newly won medals and handed them to Garth. As Garth continued to sing, he removed his hat and placed the medals around his neck. Garth then unplugged his guitar, handed it to security and directed them to give it to Nathan!
Nathan was seen on the local news holding up the guitar with a giant smile on his face. For Nathan, things could not have been better. He was in the limelight and it was not long before Nathan was in the local papers and on YouTube. However, that excitement would not last long.
After Nathan returned home safely, a friend and he decided to go to a local casino. Nathan had lost the keys to his apartment, so he decided to put the guitar in the trunk of his friend's car so that  it would not get stolen. Nathan likes to have fun and it is sometimes difficult to pull him away from that fun.  After a few hours of fun, and after badgering Nathan for a while to leave, his friend decided to go home without him. The next morning, when Nathan called his friend to get his guitar, the friend said that it was stolen and he did not know where it was. Nathan immediately called the police and then called his staff and Program Director. The investigation began.
After multiple phone calls were made, the fact finding endeavors failed and still, no guitar. In the meantime, Nathan had contacted a local news station and they were on their way to get Nathan's story. It was during the interview that Nathan's friend called and confessed that he had pawned the guitar for gas money. As arrangements were being made to retrieve the guitar, there was a spark of excitement from the reporter and he asked if he could come along. The reporter followed the entourage to his friend's apartment where another car joined the caravan to the pawn shop. The friend had the pawn ticket in hand. Nathan's friend was scared and was very apologetic for his actions. Having pawned the guitar for a mere $30, he did not realize the importance of it. As the reporter was getting the camera ready, Nathan and his friend walked into the pawn shop. With a promise from his friend to return the money Nathan paid to get Garth's guitar back, Nathan walked out of the pawn shop, looked at the camera, held up the guitar and said, "Got It!!"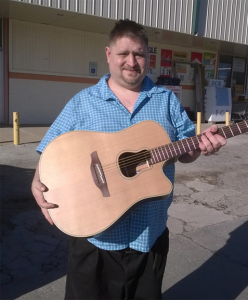 Nathan immediately made arrangements for his father to get the guitar for safe keeping. He told the reporter that he wanted to get Garth to sign the guitar. In his determination to get that autograph, Nathan has contacted The Ellen Show and The Today Show in hopes to regain Garth's attention. It's a long shot, but knowing Nathan and his persistence and determination, I place my bets on Nathan getting that autograph.