Outstanding Caregiver, Priscilla Spaeth is Dually Recognized
Jun 21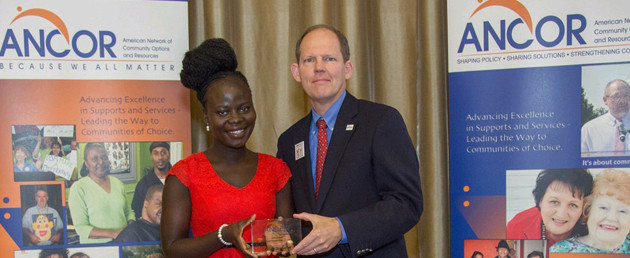 ARRM honored six outstanding caregivers during its ARRM Cares Awards Ceremony on Wednesday, May 14, 2014, at the DoubleTree Bloomington-Minneapolis. The ARRM Cares Award program began in 1996 to recognize professional caregivers who provide exemplary services to people with disabilities. Caregiver awards recipients must demonstrate a commitment to providing innovative, professional services to people with intellectual, developmental and physical disabilities. Each year, six outstanding Minnesotans are selected from a field of over 100 nominees. We are proud to announce, Priscilla Spaeth, was one of the deserving winners.
2014 marked the eighth year of the ANCOR DSP of the Year Awards competition. A direct support professional from each state was celebrated at the ANCOR Conference in Miami. We are thrilled to announce, Priscilla Spaeth was the recipient of the Minnesota DSP of the Year Award! Priscilla was recognized for her unique talent of working through complex problems with a personal approach and making the solutions seem so easy.
We couldn't be prouder of the positive influence and presence she has in the lives of those she supports at Dungarvin Minnesota. Priscilla is a valued employee and an excellent example of someone who demonstrates a commitment to providing innovative care. Congratulations, Priscilla, on your well-deserved awards!