Meet Dungarvin's National Director of Quality Affirmation
Aug 11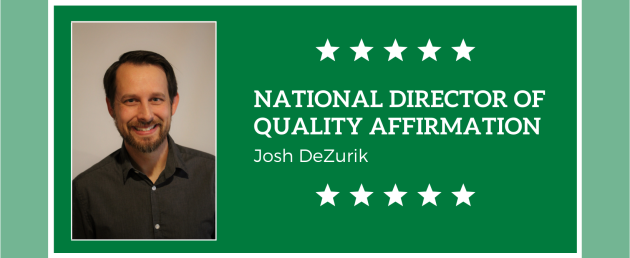 Dungarvin's newest position, the National Director of Quality Affirmation, was created to enhance our quality management practices thereby assuring the provision of high-quality services to the individuals we support throughout the fourteen states in which we operate.

When the leadership team thought of quality, they thought of Josh DeZurik. Prior to assuming the Director of Program Technology position in 2014, Josh was an Operational Director at Dungarvin Minnesota for four years and a Program Manager for three years prior to that. His unique skill set and familiarity with Dungarvin services made him ideally suited for this new position. Josh officially assumed his new position on Monday and looks forward to continuing to support the top-quality services we provide to the individuals we serve. Learn more about our new National Director of Quality Affirmation in his interview below:

How long have you been with Dungarvin?

Josh: I started with Dungarvin in 2007, so it will be 14 years next month.

How many different positions have you held in that time?

Josh: I believe that this will be my fifth position. I have been a House Manager, Program Director, Director, Director of Program Technology, and now National Director of QA.

What's something you're proud of?

Josh: From a work perspective, I am proud of the services that we provide and the part we play in the larger provider community. We have Dungarvin staff on boards of various committees throughout the country.

If you could have a career in anything, what would it be?

Josh: Probably something in the aerospace industry. The current energy surrounding the private space sector is exciting. When I watched SpaceX launch the falcon heavy rocket and then proceed to land the two boosters simultaneously I felt like a kid again.

What energizes you at work?

Josh: Problem Solving. I have always enjoyed approaching complex issues and proposing/implementing solutions to alleviate the problems.

What do you think is the biggest misconception people will have about your position?

Josh: I believe the biggest misconception that people have is that QA must be difficult or that it is intended to be a big brother watching over people's shoulders. To me QA is about working with operations to develop systems and reporting that will allow for better and more efficient services.

How do you prefer to start your day?

Josh: I prefer to start my day with some coffee and just relaxing for a few minutes. I think that it helps me clear my mind and prepare for the day.

What brought you to this field?

Josh: I became interested in the field because my aunt had Down Syndrome and received residential supports. As a kid I remember seeing some of the failures in the system and wanting to make a difference. My personal experience in this area has shaped the way that I view services and pushes me towards constantly improving quality because that is what the people that we support deserve.

What do you hope to accomplish?

Josh: I hope to drive change that improves the quality of life for the individuals that we support. Too often time is tied up with regulatory requirements that reduces the amount of time spent working directly with the individuals that we support. I believe that proper quality oversight can help alleviate this pressure without reducing compliance.

Congratulations on the new position, Josh! We look forward to seeing what you will bring to this position.