Life Changing
Jul 09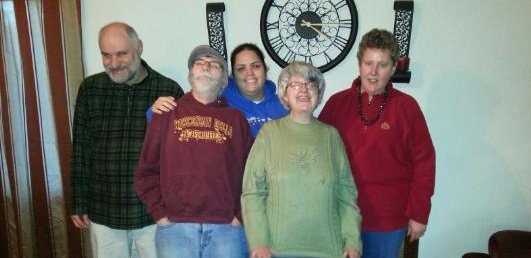 Throughout a person's life, many great things will happen. For me, one of the greatest things was my experience that came with being named the ANCOR 2014 Wisconsin Direct Support Professional of the Year.
As part of this experience, I had the opportunity to attend the ANCOR national conference in Miami, Florida to receive my award. When I first arrived in Miami, it still hadn't completely sunk in what an amazing opportunity, award, and group of people I was being categorized with. After I got over the frightening flight (plane turbulence and coastal storms) and arrived at my hotel, I finally started grasping the reality of what an amazing opportunity I had been given. The moment I looked over the hotel balcony to what was a breathtaking view to a mid westerner like me, it started to sink in. I was being recognized for doing something that I love dearly and have spent my adult years dedicating myself to. It seemed surreal given that I only do what I was taught to do at a very young age by my mother, and that is "to treat others as you'd like to be treated". Yet, there I was in Miami, looking over the balcony at what was a view that not only was beautiful but represented a "congratulation" and "thank you" like no other. In that moment, I felt overwhelmed with appreciation. Through my mind raced achievements, failures, memories, past and present people I support who gave me so much more then I had given them, losses, training/certifications, influential people, advocacy, support, and all the love that had gotten me right there where I was standing. It is a very significant moment in my life and one perhaps few people get to experience. I got to have that moment, though, and I will always have Dungarvin and ANCOR to thank for that.
I attended a recognition dinner hosted by Dungarvin. There were speakers that thanked us for the work we do and for our dedication. During the dinner, I met and spoke with Dungarvin's CEO, Regional Directors and other DSP's. We shared laughs, stories, concerns, ideas. But it was the words of Lori Kress that stood out to me most. As the evening came to an end, she said "I want to take the opportunity to thank your families for the sacrifices they make, for you all to do what you do." I have been in this field for 15 years and with Dungarvin for 7. That was the only time I had heard someone extend thanks to the families who also become dedicated merely by association with a DSP. But our families do sacrifice so much: time spent together, holidays, home cooked meals, coherent conversations, attention, affection and so much more. I truly believe a supportive family is needed to in order for DSP's to go over and above and to dedicate ourselves to the work we do. After hearing Lori's kind words to our families, it reminded me what amazing support I have at home and how I often forget to acknowledge how thankful I am for my family, knowing I would not be able to do all that I do without their support.
I attended a session during the ANCOR conference called A Brand New Day. I was inspired. The passion of the speaker was contagious. The speaker believes in change and has a desire and passion to make a difference. What was unique to me about the difference he wants to make is that he believes it is the DSPs/caregivers that are the backbones of our organizations. He talked about now being the time to acknowledge the dedication, passion, love, that a DSP/caregiver gives. It is time we all come together–directors, office personnel and DSP's alike to not only advocate for the people we support, but to advocate for the DSP's/caregivers too. We need to stop the "warm body" approach and fill positions with people who care. In order to do that, we have to lobby to lawmakers and help them understand the importance of DSPs/caregivers so that in exchange DSPs/caregivers can start being compensated for their WORTH.
This session had such an impact on me because I have sometimes felt "less than" for having an entry level job. However, when the opportunity has come to move up, I have not made that effort because my passion is being a DSP — being right where I am every day. There are very few other jobs as rewarding as mine. I am very fortunate to be in a place financially where my income is not a huge determination of my choice in profession. To be honest, if it was, I would be unable to provide for my family in the way I'd like based on my current income. There are many passionate, dedicated, caring people that had to move on from their jobs as DSPs as they were not being compensated for their worth. So, I agree, it is time we come together and rid organizations of "warm bodies" and refill them with "caregivers." To do so starts with us advocating for the DSP/caregiver and their worth!
When describing the awards ceremony at the ANCOR conference in my own words to friends and family, I likened it to the Grammys of my field. We were made to feel like celebrities (famous if you will). It was held in an elegant ballroom. There was a podium on a stage with huge screens to broadcast our achievements. Award winners from across the country were called up one by one to receive our awards as our name, state, and achievements were read out loud. An area was set up to take pictures with Dungarvin's CEO and our award. While sitting there listening to all the achievements that filled the room, I again started to feel inspired. It made me feel the world today is still filled with the most extraordinary people. Some of the accomplishments and passion that was exhibited brought tears to my eyes. I was honored to be among such an elite group of people. I will forever remember the day, not because of the award I received, but by the imprint made in my heart by a room full of strangers dedicated to a shared cause.
To sum it up…my experience was life changing!