Fun Halloween Events for All at Dungarvin
Dec 20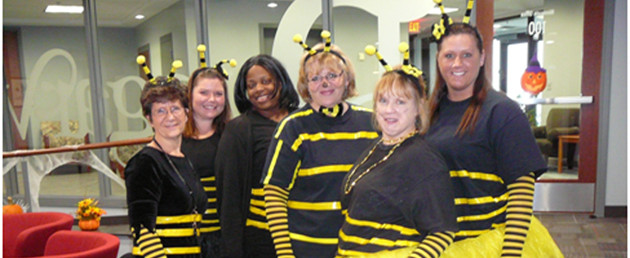 Minnesota Halloween Fun with Supported Individuals
Each year Dungarvin Minnesota holds at least one event for the individuals we serve. This year the event was a Halloween Party and it was held at the Mermaid Convention center in Mounds View. This event was a tremendous success and we had over 200 people show up from ALL service segments, including Assisted Living, Residential, Non-Residential, Supported Employment, and even Case Management. There was a photography station for individuals, or groups, to get their pictures taken as they entered to keep as mementos. The event also included the two things essential for a good party, a taco bar and plenty of music.
The event included a costume contest with prizes for the scariest costume, cutest costume, best costume, funniest costume, and most creative costume. Contestants were judged by the planning committee, which walked around to take in all the different costumes.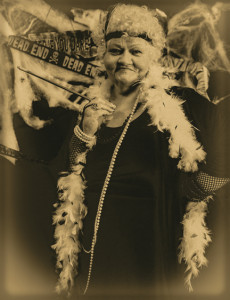 The winning costumes included:
Best – Zombie Bride
Spookiest – Scary Clown (the "It" Clown)
Cutest – Pink Princess
Creative – Freddy Krueger (he had made his own glove with the knives out of paper)
Funniest – McDonald's Fries
Special thanks go to the planning committee: Missy Loveday, Toni Eggert, Melissa Haefner, Mor Vue, Rosaline Allen, Jerry Meurer, and Katie Shahzad. Not only did they plan the party and dress up in costume, they also volunteered their time to ensure the party ran smoothly.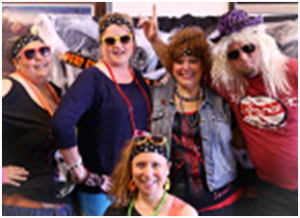 Minnesota Office and National Central Office Halloween Events
All four levels of the Crosswinds building, that homes both the National and Minnesota offices, were decked out and ready for tricks and treats. Office staff were invited to bring their families throughout the building to visit and gather some treats. The children that were able to visit had a blast, each going home with a bagful of candy.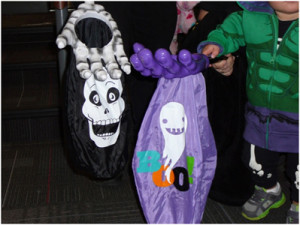 There was even a costume contest for the employees. The winning costume went to the Administrative Support Department, whom were all dressed as bees, with Barb Johnson, the Office Manager as the Queen Bee.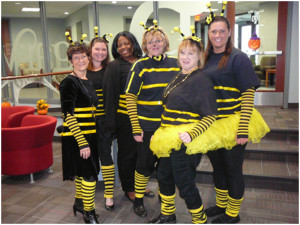 The Minnesota office held a friendly little competition of pumpkin decorating using only paperclips and binder clips. It was fun to see how creative the teams could be!