Escaping the California Fires
Jan 10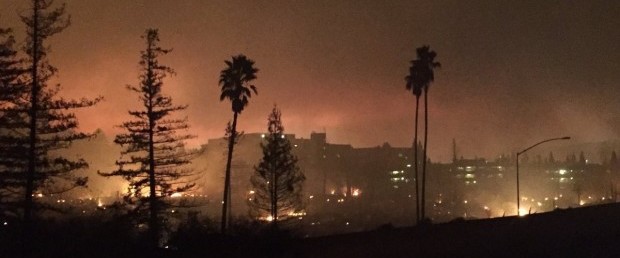 The recent California fires wreaked havoc, impacting Dungarvin programs, staff, and persons served.
While turning off the lights on a normal Sunday night, the smell of a campfire enters the air.  Stepping outside the air was a little smoky, but the smell conjures memories of summers gone by.  Back inside, checking the computer, reports of a fire about 10 miles away from the city center of Santa Rosa were being responded to by the local fire department.  Everything is under control.  Lights out, time for bed.
BANG! BANG! BANG!!  Just a couple of hour's later doors are being pounded on.  The fire has grown rapidly, is out of control, and has entered neighborhoods.  Entire blocks of people grab their loved ones and keys and begin to flee.  No time to grab cell phones or clothes, photos or heirlooms.  People are running for their lives.
Long time Rohnert Park staff Kevin Rose, is one of those who escaped the flames.  But to what?  Where to go?  There was no time to grab his cell phone and he didn't want to disturb anyone at 2am.  Kevin drove to a familiar place, Dungarvin.   He parked his truck and tried to get some sleep before his 6am shift began.
Meanwhile more and more neighborhoods are awoken by pounds on doors or calls. BOOM!!!! Explosions echo in the night.   What is exploding?  Transformers, propane tanks, tires?   Outside, the skies glow orange in multiple directions.  The smoke is getting thicker.  There is no longer the familiar campfire smell.  Now the toxic, nauseating smell of manmade objects, melting and burning, hangs heavy in the air.
People all over Santa Rosa are fleeing.  The roads are at a stand still.  By 4am, it is determined that the Santa Rosa and Rohnert Park day programs will not be able to open.  But now what?  By 6am, some dedicated staff that can, show up to work.  They start making calls to determine how many of the people we serve have been affected.   Many calls go unanswered, many unknowns remain.
As Monday progresses, the fires continue to grow and envelop more and more neighborhoods.  Evacuation orders expand.   A few calls are answered and we learn that several people have been evacuated to shelters.  Several others have relocated.  Most of the Santa Rosa staff and many of the Rohnert Park staff has been displaced.  They too are staying in shelters or with family and friends.
While the outside the air is smoky, the air inside the Rohnert Park program (about 8 miles away) is fairly clear.  On Tuesday morning, with the fires still raging out of control, the Rohnert Park program opens its doors to those who can make it to program.  A dozen or so people are able to attend.  The residential staff that has been working for 36 hours without a break are grateful to have some time to care for their own families and get some rest.
The smoke still hangs thick inside the Santa Rosa program.  It would be unsafe to provide services there.  Instead, staff goes out to the residential homes and to the shelters.  They provide respite to those residential staff who have been working around the clock.
Later in the day on Tuesday, a call comes into the Santa Rosa program for assistance.  There is a gentleman in an evacuation zone whose wheelchair has run out of power.  The power is out in his apartment and his supported living staff does not have a way to transport him out of the area.  Our Santa Rosa program director Susan Whistler, takes one of the vans and goes into the evacuation zone to assist.  The supported living staff is able to use a generator to power the wheelchair enough to load onto the van.
Though they have never met before, a bond forms.  This is happening all over the city, strangers helping strangers in a time of need; humanity at its best.  All over the city a motto emerges: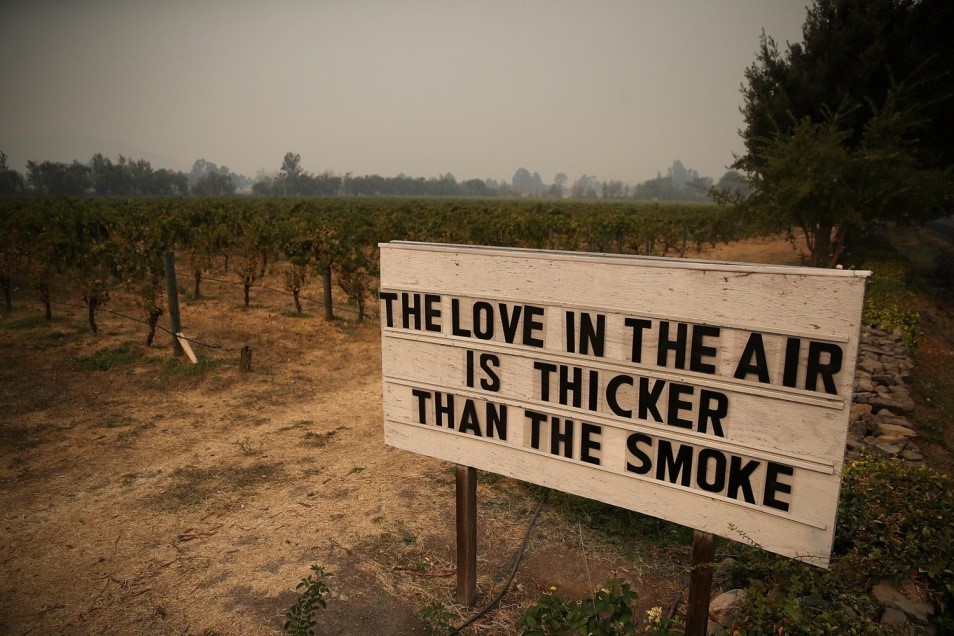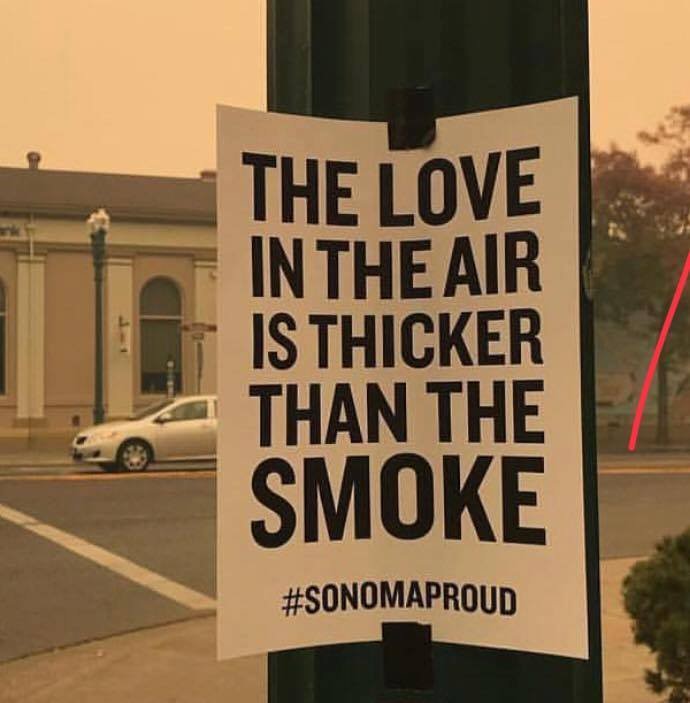 The gentleman watches Susan as she prepares the tie downs and he makes sure to point out all the places to secure the tie downs on his wheelchair.  Susan transports him to safe location and as he rolls away, he reaches out and "high-fives" her.
By Wednesday there is so much smoke that our programs 50-70 miles away are closing early.  The fires are moving in the direction of our Vacaville and Fairfield programs and they are closed for the rest of the week.
For much of the week, the entire area is covered in thick smoke and ash.  Some are living in shelters, others are sleeping on couches.  A few find side streets back into their evacuated neighborhoods and sleep without power.  No heater or shower, stove or microwave, and with the sounds of breaking glass from looters.  We learn that some individuals we serve and some of our staff have evacuated the area entirely, driving as far as Oregon and Utah to find refuge with family.
Out of the 162 individuals served and staff directly impacted by fires in Santa Rosa and Rohnert Park, there were no injuries or deaths.  Of the thousands of people who have a developmental disability and receive services in the region, there were no injuries or deaths.  The entire community pulled together to supported one another.
When the fires were finally put out, over 160,000 acres were burned and almost 7000 structures were destroyed, most of those homes.