Certified Mental Health First Aid Training Provided in Dungarvin Connecticut
Mar 22
Dungarvin Connecticut is adding Mental Health First Aid to its Conditions of Employment training along with First Aid, CPR, and other mandated trainings.
What is Mental Health First Aid?
Mental Health First Aid is an 8-hour course that prepares participants to identify, understand and respond to signs of mental illnesses and substance use disorders; to reach out and provide initial help and support to someone who may be developing a mental health or substance use problem or experiencing a crisis. It was created in 2001 by Betty Kitchener, a nurse specializing in health education, and Anthony Jorm, a mental health literacy professor. Most people may know how to help if they saw someone having a heart attack—start CPR, or at the very least, call 9-1-1. But too few people know how to respond if they see someone having a panic attack or showing signs of alcoholism. More than 730,000 people across the United States have been trained in Mental Health First Aid by a dedicated base of more than 11,000 instructors. The United States is just one of the many countries that have adapted the program from Australia.
Melissa Mascari, Dungarvin Connecticut Area Director, recently earned her training certification in Mental Health First Aid. We believe this competency is critical to providing mental health and addiction-sensitive supports to the individuals we support. Most of the individuals supported in the state of Connecticut have a dual diagnosis (intellectual disability and mental health disorder). Additionally, our team supports some adults with co-occurring disorders and intellectual disabilities, for example a person with an intellectual disability, mental health disorder, and a substance abuse disorder. Not only will this provide additional ability to support the individuals we serve, the information and awareness building opportunities experienced during the training will very much benefit our staff and supervisors in their personal and professional lives.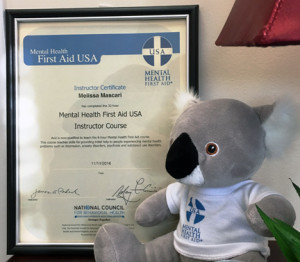 We are excited to add that Melissa is able to provide this training anywhere in the US, making her a resource for the rest of the Dungarvin company if desired.