The Bitter with the Sweet: The Personal Side of Supports
May 14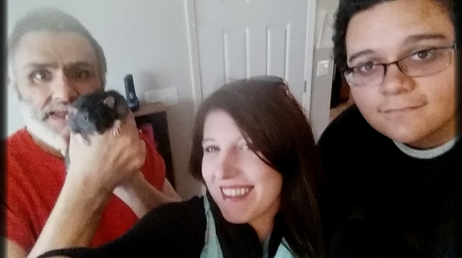 Most of us love working with the individuals we serve because we enjoy seeing the gains in independence and skill acquisition as goals are achieved and outcomes realized. With some individuals, we develop relationships that while professional in scope, become quite personal in our concern, involvement and genuine affection for them as a person as well as an individual receiving services.
Greg has been served by Dungarvin for almost 20 years. He currently lives in a supported living setting with a housemate. Over time, he built up his independent living skills and developed sufficient decision making and problem solving skills that he no longer required 24 hour supervision. He enjoy a variety of social activities in the community from 'ghost hunting' with community members at local 'haunts', shopping at the farmer's market in the summer, and walking the beach at the Indiana Dunes National Lakeshore. Greg has a devilish sense of humor, is a great cook, and loves shooting pool and playing table games with his friends.
Last year Greg began to lose weight at an alarming rate and soon was diagnosed with cancer. He has undergone many rounds of chemo therapy and has had dozens of changes in medications, countless medical appointments and treatments. He's had two surgeries. When Greg is asked how he's doing, he usually says, 'I have good days and not so good days'. On his good days he still enjoys eating out or a walk if he has the strength. On his not so good days, he may stay in and play with his pet rat Kitty (did I mention Greg's sense of humor?). Greg doesn't have family, so he relies on his Dungarvin staff to provide both the personal care he needs during his current serious illness and the emotional support that enables him to cope with the stress, fatigue and anxiety he experiences at times.
Greg's indomitable spirit helps him face the discomfort, pain and nausea of treatment with courage and frequently a smile, but Greg's staff are his constant companions on both 'good' and 'not so good' days. They help him deal with the physical reality of loss of skills and independence he worked so hard to achieve. They support him when he gets low and begins to wonder what might happen in the future. None of us know what the outcome of treatment will be for Greg, but we know that we will be with him through it all, every step of the way.
Working with Greg, we are reminded that while we come into this line of work for the joy of seeing individuals thrive in services and stay because we are committed to their success, we also must take the 'not so good' days with the good days. On those 'not so good' days, we must look deep into our own reserves of strength and humor to cope with the pain of seeing the individuals for whom we have come to care so much experience the worst that life can throw at us all.