ANCOR Recognizes Dungarvin CEO with Legacy Leaders Circle
Jun 19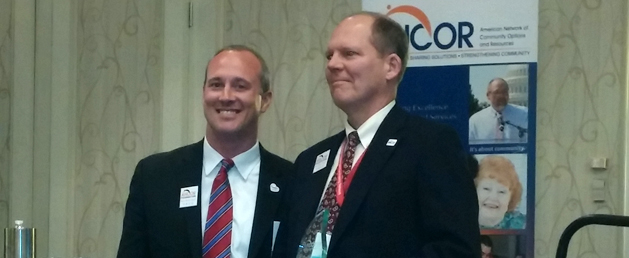 Earlier this year, Dungarvin's CEO, Dave Toeniskoetter, was nominated and recognized by ANCOR's Legacy Leaders Circle.
The ANCOR Foundation Legacy Leaders Circle celebrates the accomplishments of the men and women who have paved the way to life in community settings for people with disabilities. These visionary leaders have made meaningful community participation a reality for the nearly 500,000 Americans with disabilities ANCOR providers support. The ANCOR Foundation Legacy Leaders Circle honors our finest and most influential leaders, while creating an endowment to fund the development of future leaders in our field. Dave has worked in the field of developmental disabilities for over 30 years. Dave serves as Dungarvin's President and CEO which supports over 2,500 individuals across 13 states and has been a strong supporter of ANCOR for many years. Dave's accomplishments and reputation speak for themselves. Dungarvin's Director of HR and Risk Management, Debi Allsup, was present to see Dave accept this award.
Debi stated, "It's hard to fathom how this could have remained a secret from the man who always seems to know what's going on, but Dave seemed genuinely surprised at this recognition!"
The award acknowledged Dave's contribution as "a visionary leader in the field of developmental disabilities for over three decades." The nomination continues with the following accolades. "During his distinguished career, he has been a strong advocate for individuals, ANCOR, families, and providers. Dave has been an active member of ANCOR since 1997. In 1998, Dave worked in collaboration with other agencies to change the Federal law related to income taxability of payment to foster families. During his tenure, he served on the Government Relations Committee and played a key role in securing a 2004 opinion letter from the Wage and Hour Division on the application of the sleep time exemption for direct support professionals. Dave has served on ANCOR's Finance committee since 2002 and served for an extended period of time as the Chair of that committee. Dave has also been the Fundraising Chair for the National Advocacy Campaign. In 2013, Dave was elected as ANCOR's Board President and served in that capacity through 2014. Dave currently is the Past President and as such serves on the ANCOR Executive Committee. Dave has also been a speaker at several of the ANCOR conferences. In closing, we can think of nobody who embodies the principles associated with the Legacy Leader award more than Dave Toeniskoetter."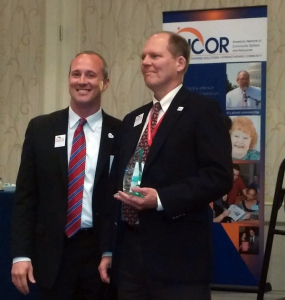 Dave Toeniskoetter (right) Accepting ANCOR Legacy Leader Circle Award
We all agree with Debi when she said, "We are fortunate to have a strong leader like Dave at the helm of Dungarvin!" Congratulations Dave!