Wade Spencer Wins National APSE 2021 Lois Curtis Award
Jul 14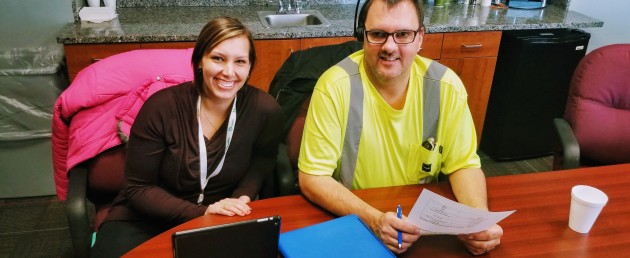 Wade Spencer, one of our persons served in Minnesota, is named winner of the National APSE 2021 Lois Curtis Award.
The Association of People Supporting Employment First (APSE) is the only national organization focused exclusively on Employment First to facilitate the full inclusion of people with disabilities in the workplace and community. APSE members recognize that everyone has abilities to contribute and their work should be recognized and rewarded with fair pay, creating inclusive workplaces. Employment enriches and adds meaning to every life, and workplaces and communities are enhanced when they embrace differences.
The Lois Curtis Award recognizes an individual's personal achievement in advocating for inclusive, individualized, community-based employment and/or independent living. Read Wade's full nomination below:
Provide examples of how Employment First played a role in the nominee's advocacy success:

Wade Spencer lives in Eagan, MN. He owns his own business, House List Handyman Services, where he installs vinyl siding and drywall, fixes and installs gutters and boards up foreclosures. Wade got started with contracting and maintenance jobs back in the 1990s, when he partnered up with a friend and worked together on local bids. In the early 2000s and with the help of a customized employment provider he decided to strike out on his own and start a small business. Wade and his job coach at the time developed a business plan and put together a list of job types and prices. After starting with vinyl siding, he moved into installing gutters. Nowadays, he makes the decision about whether or not to meet potential clients. Then he calls his job coach, "She always meets clients with me and then she and I draw up the contract together. She helps with the paperwork as well. I couldn't do it without her." Wade wanted an opportunity to be part of the general workforce. With the help of a job coach and the idea to start his own business, he has created his own opportunity, despite living with ADHD and a traumatic brain injury. "I can do what I want. I don't have to be watched 24 hours a day. I like being the boss. The truth is, though, when you work for yourself, every client is your boss. My job is to leave the homeowner's property having fixed whatever is broken. That's how I make a living and I take pride in that."
Describe how the nominee advocates for equitable employment and full social inclusion:

Over the years, Wade's company has grown considerably. He now sometimes takes up to 80-100 calls per day and has to decide which jobs to take and which ones to leave behind. When the jobs get too big, he has also developed a pool of sub-contractors to help him out. For his roofing jobs, he works with an all-female crew. "One of them is deaf," he said, "But she's really good at what she does. I work a lot with her supervisor, who knows sign language." Where he sometimes struggles on his own, Wade has learned to seek support from his job coaches in order to keep his business running. He applies that same approach to his sub-contractors. Where there are potential barriers, he looks for accommodations or common-sense solutions to meet deadlines and to come in at cost: that means hiring the people that are good at what they do and figuring the rest out from there. What is equitable employment? It's when everybody has the same opportunity to employment based on the merit of their skills. Wade embraces this perspective and weaves it into the fabric of how he runs his business. "I contract with people who I know can get the job done. It doesn't matter if they have a disability or not, if they are a man or a woman. At the end of the day the work needs to get done so I'll hire whoever I think can do it."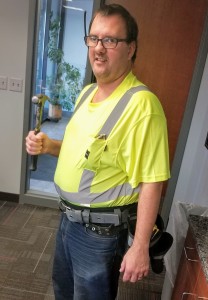 Describe how the nominee embraces risk and constantly challenges the status quo to improve inclusive employment outcomes for people with disabilities:

In recent years, Wade has been facing health issues that at times has made it difficult for him to get out and do the jobs himself. Still, he has worked diligently to market and grow his business despite the medical issues. This has put more and more of an emphasis on working with those sub-contracted work crews. "98% of the time I can't get out there anymore," Wade remarked, "So I have four work crews now and I've hired a number of people with disabilities on them. I have a disability myself and I work but I have friends that have disabilities that can't get jobs because they are disabled. So I stepped out there and I wanted to hire people with disabilities because I know it can be done." In doing so, Wade has partnered with local disability services case managers and disability employment providers to source candidates that are interested in construction. From first working in construction, to then opening up his own business as a person living with a disability to now embracing inclusive hiring and retention strategies, Wade has built House List Handyman Services into a reputable, local contracting company, securing stable income for him and his family. "I wished I had done it a lot sooner, but I'm really glad that I did it [opened his own business]. For those out there thinking about doing it, I say go for it. Ask for help. Get the help. And then do it."
Thank you, Wade, for inspiring us with your determination and hard work!