Supports for "High Acuity" Individual Leads to Amazing Successes
Jan 11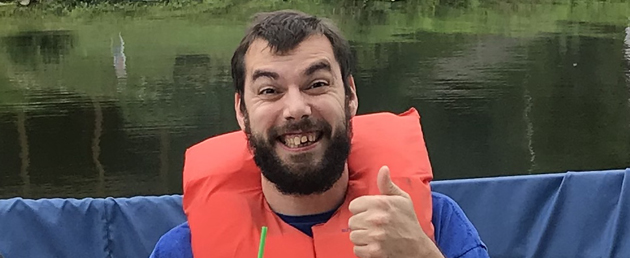 Aaron came to Dungarvin Wisconsin, LLC in early 2011.  His program was the first of its kind.  Many places provided "High Acuity" services but, while they shared the same title, they did not share a "no-fail" philosophy.
Aaron has a complicated, extensive social and institutional history.  Aaron's father was physically abusive to his mother while she was pregnant with him.  His mother smoked crack-cocaine and used other illegal drugs while pregnant with him.  Three months after Aaron was born, he was readmitted to the hospital with dehydration and gastroenteritis.  The parents were warned that protective services would be investigating the situation.  At the time Aaron's father was unwashed and had a black eye.
At 4 years old, Aaron intentionally set the family's home on fire.  The entire home was destroyed, and the family dog perished in the fire.  When Aaron was 10 years old, he had his first contact with the police because he physically assaulted a 4-year-old boy by hanging him in a tree.
From the time he was 4 years old until 2003, Aaron was admitted to Bellin Psychiatric Center, Brown County Mental Health Center, and Winnebago Mental Health Institute.  Aaron has been declared incompetent to stand trial several times.  Aaron remained at Winnebago until March 2003, when he was discharged to an Adult Family Home.  Within a short time, the police were contacted because of his levels of aggression; leading to being arrested and incarcerated.
Aaron then began a history of being in and out of various community placements, each time returning to a state-run institution or incarceration.  Aaron was assessed by many experts, and the belief was that he would never successfully live in a community setting: "He'll never be able to successfully manage his internal conflict and lead a fulfilling life in a community setting."
Aaron had reached his maximum amount of time in state-run institutions and was scheduled for release.  No other provider would consider taking him in due to his substantial issues while in community placements.  Brown County reached out to former Wisconsin State Director, Julie Josephitis, for assistance.
Julie worked with the then Regional Director, Lori Kress, to start building a program that would come to be known as High Acuity.  The home was dubbed Sweeney and the path to Aaron's success began.
Aaron struggled mightily in his first three years.  He was used to using his physical strength and threats to get what he wanted.  Aaron had almost three decades of distrust and inconsistency to overcome.  Aaron had never truly had any level of stability nor support in his life.  He began to understand that the staff at the Sweeney program would not give up on him.
At all the other community placements, Aaron discovered that he could use his learned aggression to be forced out of a home.  Aaron would look to end his placements before getting attached due to his belief that no one would remain actively stable in his life.
At Sweeney, for the first time in his life, Aaron began trusting in his staff to help him get through his crises.  Aaron's significant behavioral struggles slowly began to dissipate.  After a while, he earned the ability to work with his staff to start a garden in his yard.  Aaron grew peppers, tomatoes, green beans, and cucumbers.  He and the staff also canned and pickled the vegetables they grew.
As Aaron's garden grew, his ability to pro-socially handle stress and frustration also flourished; soon after, he began seeking a job.  Dungarvin worked closely with the ReStore in Mauston, Wisconsin in order to acquire a volunteer position for Aaron there.  Aaron began with stocking shelves, but soon proved adept at refinishing furniture.  Aaron's work now includes repairing, sanding and staining home furniture such as, tables, nightstands and dressers.
Aaron's continued success astounded everyone, including those experts that stated that he would never have a successful or fulfilling life.
Among Aaron's accomplishments:
Learning guitar through lessons.
Taking care of pet turtles; one passed away in 2020, but Aaron has learned the life skills needed to progress through that deep range of emotions in a safe and productive manner.
Going fishing with a level of regularity.
Enjoying summer pontoon boat rides.
Touring Lambeau Field, home of the Green Bay Packers.
Amassing an impressive collection of Teenage Mutant Ninja Turtles collectibles, as well as, CDs and DVDs numbering close to a thousand at the time of this writing.
Aaron's is a great success story and a reminder as well that no matter how dark a person's past has been, the ability to overcome and exceed the expectations born of it is inherent in everyone.  The key is consistent, caring support.