Racing Ride-Along Experience for J.R.
Oct 20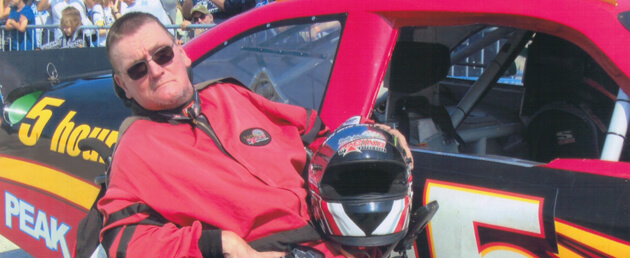 Dungarvin Wisconsin provides supports to Garry "J.R." Martin. Years ago, J.R. used to race cars in Illinois, cheered on by his wife and children. Racing runs in J.R.'s family, as he is related to racing legend Mark Martin, J.R's father's cousin. Tragically, when racing on the figure 8 track in Rockford, Illinois in the early 1990's, J.R. was "t-boned". He sustained serious injuries including Traumatic Brain Injury (TBI).
Recently, J.R. was able to get back in a race car for the first time since his crash in 1993. A program called Wishing Well worked with J.R.'s day services provider to set up this fabulous experience for him. It has been his dream to get back into a race car and Wishing Well made that happen through the Rusty Wallace Experience.
On Sunday, September 10th, J.R. went to the Milwaukee Mile Raceway with two of his housemates from the Dungarvin service site where he resides in Janesville. J.R. was thrilled to be in the 5- hour energy car #15. After his ride-along, J.R. received a plaque with pictures of his experience along with a videotape of the race. The tire shelf sitting in front of J.R. in the photo (above) was given to him by Leslie Chamblee, Dungarvin Community Support Provider, whose father creates these shelves from tires for race lovers. Fittingly, the tire has Mark Martin's car, picture, and a trading card on display. To top the day off, peers from Riverfront Day Services made J.R. cards and posters of his own racing car (pictured below), a purple and white Road Runner numbered 46.
Weeks later, and J.R.'s face still lights up when you ask him about his racing ride-along. Thanks go out to all of the people involved in making this dream come true for J.R!