Kyle's Two Different Worlds
Jul 11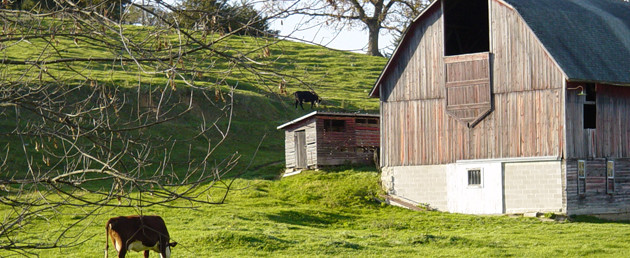 Kyle is a young man with a developmental disability and a hearing impairment, but growing up on a farm in relative isolation from his community turned out to be a bit more of a 'disability' than either formal diagnosis. Despite the fact that Kyle lives in a fairly developed urban county, he loves life on the farm. Nothing makes him happier than helping his dad feed cows, repair farm equipment or ride around on the 'gator' ATV. His family was very anxious to see him begin developing social relationships, especially as his graduation from high school approached. Kyle had been receiving services under Indiana's Community Integration and Habilitation Medicaid waiver for several years, but staff members were always challenged by getting him interested in activities off the farm. Many staff members at the site were somewhat intimidated by the dairy herd, the mud, and the whole idea of life on the farm. In turn, Kyle was intimidated by social interaction in the community because of his communication challenges. For a long time these two different worlds faced each other but didn't touch.
Then Kyle got a different kind of staff. She was young and not afraid of the huge dairy cows milling around the barnyard. She didn't mind getting dirty and riding the 'gator' around the farm as Kyle ran errands or retrieved tools for his dad (of course we worried about her riding the 'gator', but Kyle's mom assured us he was a very safe driver!). She showed interest in Kyle's world and was more than willing to venture into it, mud and all, with him.
As Kyle and his staff built their relationship on the farm, he began to trust his staff and became more willing to try social activities off the farm. They started with the 'easy' ones such as going to Tractor Supply to pick up a part. Kyle's staff prepared him for interaction with the clerks, encouraging him not to feel self-conscious if he had to speak up and repeat himself if he was not understood the first time. When necessary, Kyle's staff often coached the clerks, supporting their interaction with him as well. Just as Kyle's staff learned that the farm wasn't such a scary place, Kyle soon learned that the community isn't so scary either. Despite his communication challenges, he can make his wants and needs known in strange environments. He began to feel comfortable in familiar settings in the community like TSC, and then began to branch out to other settings in the community. He participated in Special Olympics golf, went to birthday parties with peers he met, learned to order his favorite foods at restaurants and purchase a movie ticket for films he had selected. Finally, Kyle's two different worlds — the farm and his community — began to become integrated.
Kyle may always be happiest 'down on the farm' with the cows and the 'gator', but he is now learning to navigate the wider world around him thanks to a staff that was willing to venture into his world first.