Camping Adventure in Dungarvin Oregon
Dec 23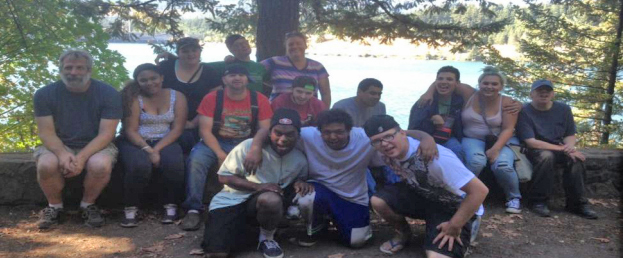 Earlier this year, a group of staff and individuals from our "Northern Maintenance Crew" decided to go on a camping adventure!
The Northern Maintenance Crew is a group of individuals we serve in our Portland Supported Employment program. They do lawn care, routine maintenance and a variety of other jobs at our Portland area group homes. How exciting it was for them to enjoy a little getaway at the Eagle Creek Overlook Group Site.
On the day of the trip, our large crew of adventurers arrived at the Eagle Creek Overlook site on a Thursday afternoon. We worked in groups to set up all of our tents and organize the food items. Once camp was set, we broke into smaller groups to start our adventures. The first group decided to explore the forest, hiking around Eagle Creek. On their way back to the campsite, they stopped to check out the fish hatchery. Everyone agreed that the tiny fish swimming in the large outdoor tanks were adorable.
The second set of adventurers decided to drive out to Bonneville Dam. Here, they fed the fish and were astounded by the size and age of "Herman" the sturgeon, who is 70 years old, 10 feet long and 450 pounds! The last pack of explorers decided to enjoy the hot weather from the comfort of the river, splashing in the water and skipping rocks along the way.
Once our separate group explorations were complete, the entire crew gathered back at the campsite. Dinner was cooked over an open fire where we each roasted hot dogs. Soon, the fire was ready for dessert, and what better camping dessert is there but… s'mores! Just before dark fell, glow sticks were passed around, and all of us had fun wearing them as necklaces and headbands. Not too long afterward, the campers agreed the day's events had tired everyone out and we all crawled into our sleeping bags.
After a wonderful sleep, as the sun began to rise, so did the campers. Soon, coffee was percolating over the fire while an easy breakfast was prepared. Then our crew helped disassemble all of the tents and pack the trailer full of all the remaining supplies. After making sure the camp site was clean, and the fire was completely doused, the Northern Maintenance Crew headed back, to the comforts of their own homes and beds. What a great adventure!