A Richer Life for Rigo
Jun 06

Rigo was born with a condition which did not make it possible for him to speak and that there was no medical procedure that could help him. Throughout the years, Rigo became accustomed to using phone applications and text messaging to assist him in effectively expressing himself to others. For years this form of communicating was enough for Rigo. It wasn't until early 2016 that Rigo decided the use of these devices wasn't enough. He wanted to speak.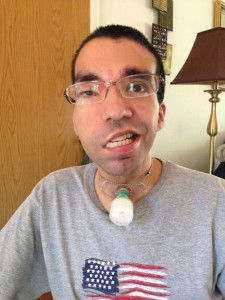 One day after 31 years without the spoken word, Rigo started to press his mom to help him find a surgeon who would make it possible for him to verbally speak. After several months of searching for an Otolaryngology surgeon (otherwise known as an ENT), the right surgeon was found. The ENT confirmed that there was a chance that a surgical procedure which had been developed in the past 15 years could be beneficial and help Rigo verbally speak. There was no guarantee that the surgical procedures would help Rigo speak but there was a chance.
Rigo decided to undergo vocal cord surgery and its accompanying procedures to have that chance. The surgery took place on May 4th, 2016. After the recovery Rigo started working with a speech therapist – to see whether he could actually learn to form words. Unfortunately, the speech therapist was not encouraging and shortly advised Rigo to focus on mastering communication through devices rather than speaking.
But Rigo did not give up and found another speech therapist. With the help of his new speech therapist, who he has been visiting weekly, Rigo is relentlessly learning how to form vowels and consonants, and connecting them by engaging his mouth muscles, palate, tongue and teeth, which he has never done before.
Rigo is now practicing to say words, ask questions and respond to people in his surroundings.
Through his decision and accomplishment, Rigo's life has become richer: a richness only known to those who extract a wish from deep inside and dedicate themselves to it.